In politics, they say there are no permanent friends and enemies. They may be harsh rivals but that has not stopped National Chairman, All Progressives Congress (APC), Adams Oshiomhole, from praising ex-President Goodluck Jonathan for his bravery in the 2015 presidential elections.
Recall that Jonathan conceded defeat even before results were made known publicly.
While Presenting the 'Person of the Decade' award to Jonathan, represented by Mr. Peter Obi, former Anambra State Governor, at the 25th anniversary of ThisDay held at Eko Hotel & Suites, Victoria Island, Lagos, Oshiomhole said he was proud of Jonathan for conceding defeat during the 2015 presidential enceded defeat stressed that the fact he conceded defeat even before the final results were officially read made Jonathan occupy a special place his heart and in the history of Nigeria.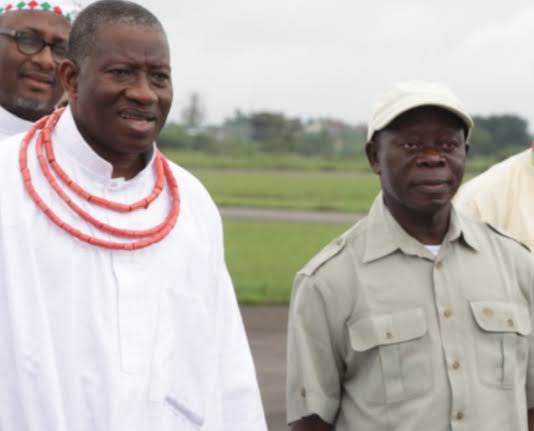 Meanwhile, Obi, who was the running mate of Atiku Abubakar, seems to always look for every opportunity to attack APC. APC defeated his party, Peoples Democratic Party (PDP), at the last presidential elections.
When he was called on stage, he explained that during Jonathan's time, there was respect for rule of law and opportunities were much for everyone. Obi added that there was also not reason to bribe judges before getting justice.